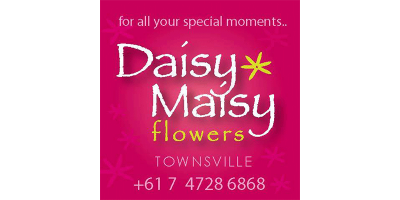 Located:

91-101 Macarthur Drive Townsville QLD 4814

About Us:

Family owned and operated florist in Townsville.

Flowers are a symbol of love and an Australian way of life. Daisy Maisy Flowers is a leading florist in Townsville, owned and operated by Hina they offer the widest selection of arrangements & bouquets of fresh flowers in Townsville.

They opened their little flower shop in 2002, and their team has been creating exclusive arrangements and bouquets for weddings, special occasions and corporate events ever since.

Daisy Maisy Flowers pride themselves in their creative designs, which are both contemporary and affordable, with a commitment to variety, freshness and styles.

No matter what the occasion, Daisy Maisy Flowers has flowers and gifts to express your sentiments.
Contact Information:

Hours of Operation:

Monday to Wednesday - 8am to 6pm
Thursday - 8am to 7pm
Friday - 8am to 6pm
Saturday - 8am to 4pm
Website: HERE
Facebook: HERE